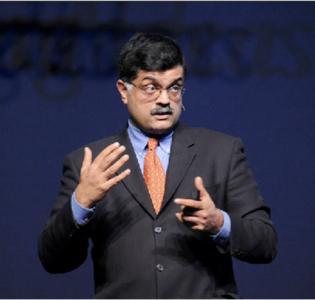 Venkat Ramaswamy is
Professor of Marketing at the Ross School of Business, University of Michigan, Ann Arbor, USA
. He is a globally recognized thought leader, idea practitioner, and eclectic scholar with wide-ranging interests in innovation, strategy, marketing, branding, IT, operations, and the human side of the organization.

Venkat's award winning book in 2004, The Future of Competition, co-authored with the late C.K.Prahalad, introduced Co-Creation as a revolutionary concept. It provided a new frame of reference for jointly creating value through experienced environments and called for a process of co-creation—the practice of developing offerings through ongoing collaboration with customers, employees, managers, financiers, suppliers, partners, and other stakeholders. Their articles, the popular 2000 Harvard Business Review article "Co-opting Customer Competence" and the 2003 MIT-PwC award-winning Sloan Management Review article "The New Frontier of Experience Innovation" envisioned an individual and experience-centric view of interactive value creation and innovation.

Between 2005 and 2010, with the explosion of digital and social media, convergence of technologies and industries, embedded intelligence, and IT-enabled services, Prof. Ramaswamy continued to engage in action-based research and writings that explored how enterprises were building engagement platforms that enabled "large-scale ongoing interactions" among the firm, its customers, and its extended network. Success lay in using people's actual experiences to generate insights and change the nature and quality of interactions in "Building the Co-creative Enterprise", the subject of a bestselling Harvard Business Review article.
"Leading the Transformation to Co-Creation of Value", the subject of the Emerald Literati award-winning Strategy & Leadership article, called for co-creation from the inside out of enterprises and their networks, as much as co-creation from the outside in, and how leaders at all levels must co-create transformation pathways.

Venkat's 2010 book, The Power of Co-Creation (with F. Gouillart) showed how enterprises in over twenty industry sectors—from automotive products, consumer durables, capital-intensive equipment, and industrial goods and services, to fast-moving consumer goods, retail, media, entertainment, and travel, to information technology and professional services—were all leveraging platforms to create new interactions with people everywhere in the system and how new forms of value could be created together with individuals through a focus on human experiences.

At the same time, offerings were no longer "finished and fixed" in the traditional sense but brought together artifacts, persons, processes, and interfaces in purpose-built digitalized interactive platforms that enabled continued creation of value by individuals and enterprises.
It also became evident that co-creation thinking challenged the nature of enterprises, their organizing and governance, and the relative roles of the plural, private, and public sector enterprises in how economies and societies were being shaped.

In 2014, Venkat published The Co-Creation Paradigm (with K. Ozcan), a clarion call to action—to help create a new world of possibilities together. It argued that ultimately, all of us will have to see, think, and act differently—not just as practitioners or academics but as individuals in economy and society—thereby rebalancing the relative influence of the individual and the institutions of plural, private, and public sector enterprises.

Venkat is currently working on co-creating systemic transformation and positive impact on wellbeing-wealth-welfare, through platforms in digitalized societal ecosystems that afford the enactment of interactional creation by engaging and organizing actors (across the plural, private, and public sectors).

He has mentored several enterprises across the United States, Europe, Asia, and Latin America conceive and execute new practices through co‐creation, and build management capabilities.